Simply... slide it, wind it, then store it!
Organized, Contained and Protected
The TieAway keeps your tie-down straps organized, contained and protected and it is MADE IN THE USA! (straps not included)
The dimensions of the TieAway
Length: 19 in
Width: 6 in
Height: 9 in
The tray has 10 slots measuring 1 and 5/8 in by 4 and 7/8 in.
The slots accomodate up to 1 and 1/2 in straps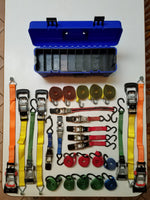 14 Ratchet straps in 1 TieAway
I Played a little Tie Down Tetras and fit 14 of my Ratchet straps in 1 TieAway! All of what is seen was stored conveniently into my TieAway. There are 7 large ratchets and 7 smaller ratchets and 14 straps organized, contained and protected while not being used. No more tangled mess in your bag, bucket, box or loose in the bed of your truck or trailer.
14 Ratchet Straps Stored Conveniently
Store the Ratchet end of the strap in the bottom of the TieAway and coiled straps in the tray above them.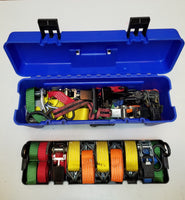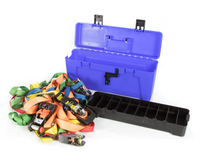 The TieAway is the Solution
Now you can manage your tie-down straps with the TieAway organization and storage system. Keeping  your tie-down straps from becoming a tangled mass has never been easier with the patented TieAway and it's spring activated, retractable arbor and tray storage. 
Get or Gift a TieAway today. Expect to have your order fulfilled and shipped immediatly!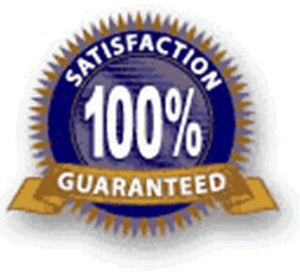 100% 60 DAY RISK FREE GUARANTEE
We will even pay the return shipping if you are not fully satisfied!
RETURN
Testimonials
I usually have a messy, tangled box full of tie downs. With the TieAway the tie downs are neat, orderly and ready to use when I need them.

Tom Johnson
I keep my TieAway in the trunk all the time now and that is where it will stay! We're constantly tying down bikes and kayaks and with it everything is so organized.

Mandi Tremayne
This was the perfect solution for my tangled mess behind the seat of my truck. Now all my tie down pieces are in one place, untangled, out of the sun and ready to go. This box is simple to use and very convenient. All of my buddies are getting one of these for Christmas this year!

Paul Durrant
Finally there is a case that is easy to use, and where I am able to store my tie down straps out of the weather in a neat organized case. NO MORE ball of tie downs. Thank you TieAway!

Mike Bair
I ordered two for myself a few weeks ago and liked them so much Im giving them as gifts. Thanks for a great product.

Keith G